PPC advertisers
money


viewers
Google (AdWords)
money


viewers
AdSense sites
money


viewers
180solutions
Google AdWords Sites Shown by 180solutions
Intermediaries' Role in the Spyware Mess - Ben Edelman
The screenshot below shows a 180solutions ad (note yellow markup in title bar) showing bestofmensgrooming.com, targeting a search at Yahoo for "face care advice." The bestofmensgrooming.com site includes Google AdSense ads (red markup). Note that this screenshot reflects manually maximizing the ad to make the "Ads by Google" label visible.
In my examination of 180solutions targeting data and the resulting web pages, as they stand as of May 2005, I have found 4,678 such examples; I chose this example arbitrarily. The typical flows of money and visitors are as shown at right.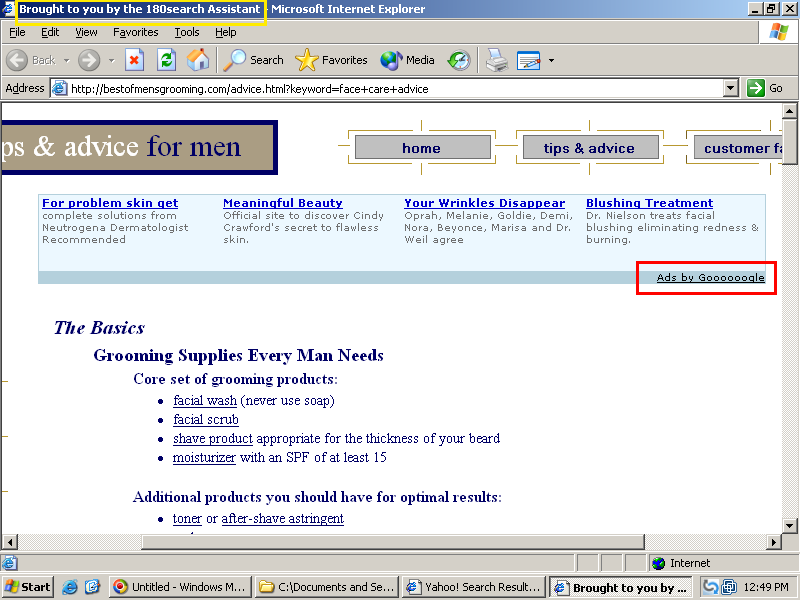 See also a video showing this occurence.
Google tells its advertisers that sites showing Google ads are "high-quality" and "reviewed and monitored according to ... rigorous standards." Google's AdSense Program Policies provide that AdSense ads may not be displayed in popups or via client software (like 180). But it is unclear what steps Google takes to enforce these rules. I sent an inquiry to Google staff two weeks ago, but I have not yet received a response.