Full Screenshots - Affiliate Hall of Shame
Affiliate Hall of Shame - Ben Edelman
These screenshots show affiliates CoolSavings and MyPoints using "adware" to target their supposed business partners' sites, in violation of applicable affiliate network rules.
All screenshots were captured in January 2006.
[ CoolSavings | MyPoints | CoolSavings FreeStyleRewards ]
CoolSavings Targeting Buy.com via Direct Revenue
This CoolSavings popup appeared as I browsed the Buy.com site on a computer with Direct Revenue.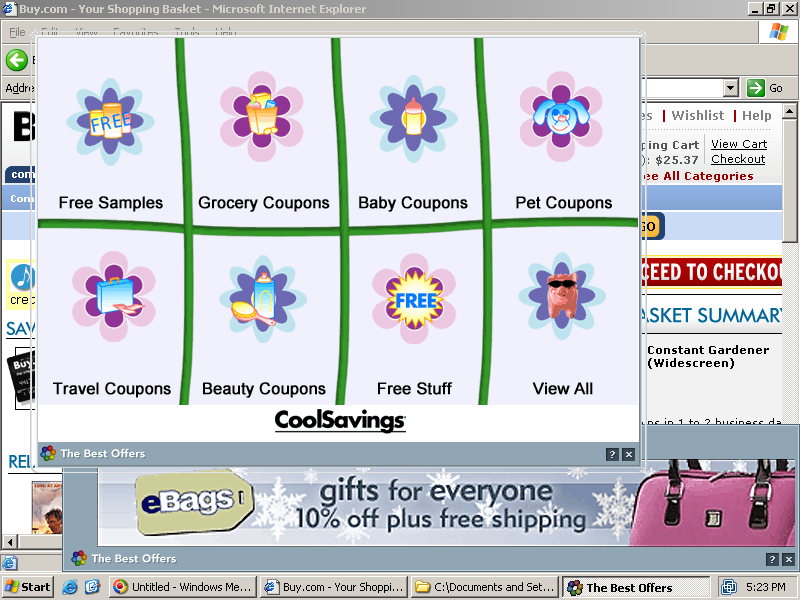 When I clicked on the CoolSavings ad, I received the screen shown below.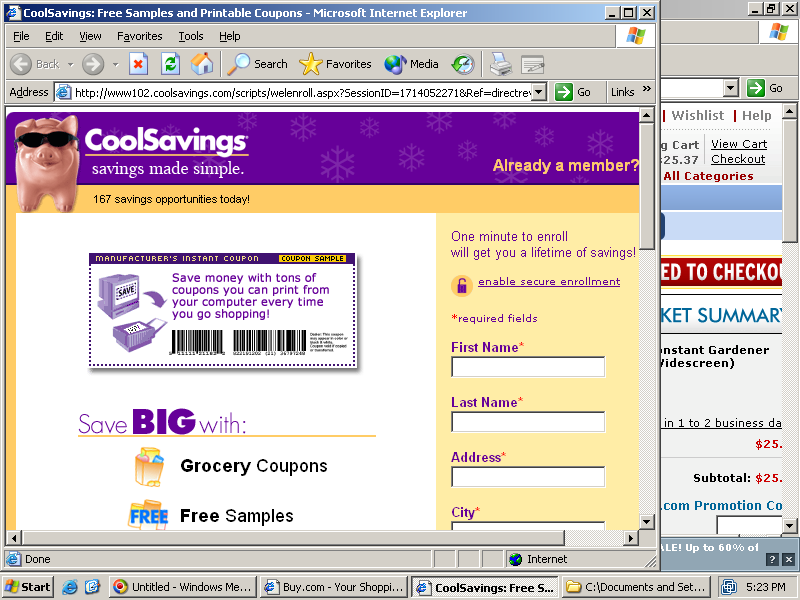 This CoolSavings URL incorporates a specific reference to "directrevenue" (see rightmost word in the visible URL in the coolsavings.com address bar above). CoolSavings therefore cannot deny knowing that it was receiving traffic from Direct Revenue. The full destination (landing page) URL was as follows: www.coolsavings.com/index.asp?Ref=directrevenue&BN=600400-0503-LavFlowerIcA-dB&BL=soho01 .
MyPoints Targeting a CJ Merchant via Direct Revenue
This MyPoints popup appeared as I browsed a CJ merchant's web site on a computer with Direct Revenue.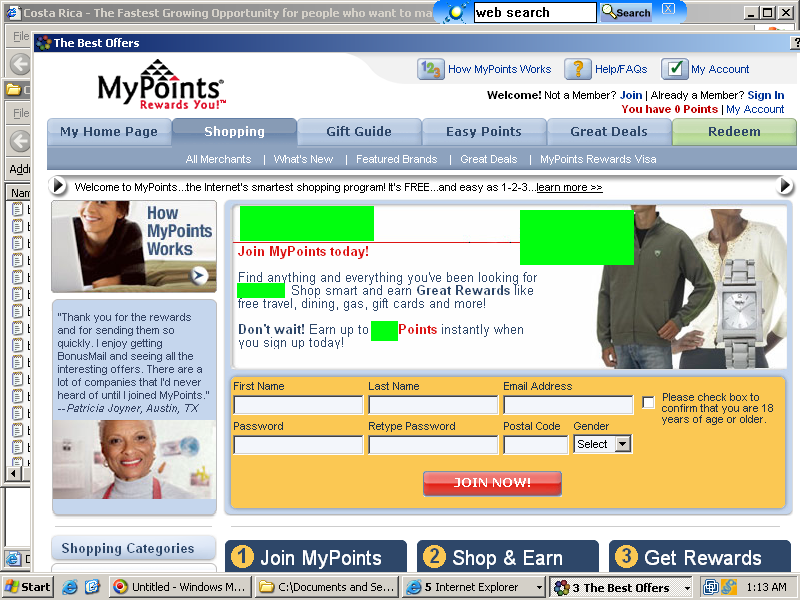 I have chosen to block out the target merchant's name to protect its identity. I had just requested that merchant's site, and MyPoints used Direct Revenue targeting to customize its popup to specifically mention the site I had been viewing. MyPoints thereby attempts to trade on this merchant's goodwill by repeating that merchant's name and logo.
CoolSavings's FreeStyleRewards Continues to Target Circuit City via 180solutions
This CoolSavings FreeStyleRewards popup appeared as I browsed a Circuit City's web site on a computer with 180solutions. Screenshot prepared on January 28, 2006.