Web Nexus, Mediatraffic, Ccg360, and LinkShare Claiming Commissions on Netflix's Organic Traffic
Spyware Still Cheating Merchants and Legitimate Affiliates - Ben Edelman
This page gives a screenshot and packet log showing how Web Nexus, Mediatraffic, Ccg360, and LinkShare claim commissions on Netflix's organic traffic. Testing occurred on May 12, 2007. Additional discussion.
On a PC with Web Nexus spyware installed, my automated testing system browsed the Netflix site. It received the popup shown in the foreground -- a duplicate copy of the Netflix site. The original Netflix window remains loaded, visible in the background.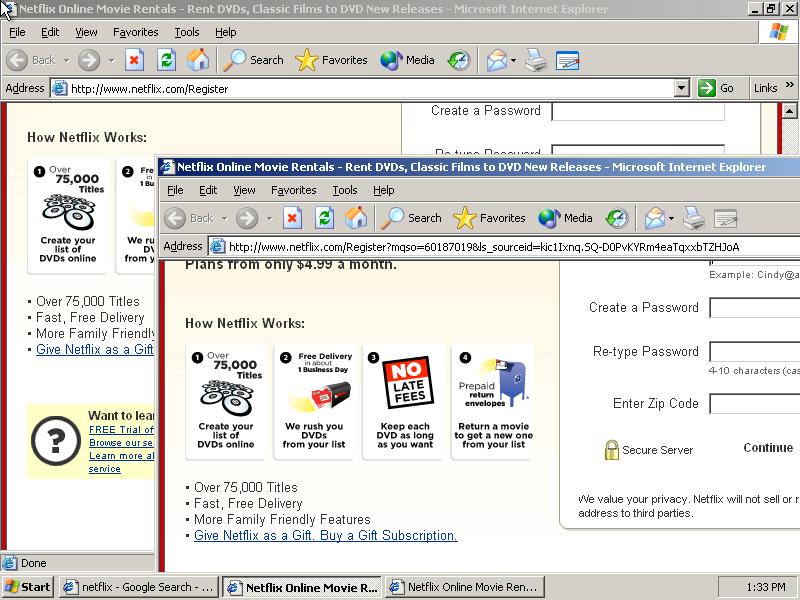 The packet log below shows the series of redirects that caused this pop-up to appear. Traffic flowed from Web Nexus (yellow) to Integrated Search Technologies' Mediatraffic (green) to Ccg360 (blue) to LinkShare (red) and on to Netflix (purple).
GET /cp.php?loc=295&cid=9951709&u=...&en=google.com&pt=3&app_src=installer&app_run=unknown&crc=EDD26B3DE9E88A2B&cc=US&dp=...==&lp=0 HTTP/1.1
Accept: text/*, application/*, */*
QoolShown-Popups: 000
QoolShown-Popups-nt: 000
User-Agent: z_v5.2.7
Host: stech.web-nexus.net
Cache-Control: no-cache
HTTP/1.1 200 OK
Date: Sat, 12 May 2007 17:32:57 GMT
Server: Apache
Accept-Ranges: bytes
X-Powered-By: PHP/4.3.2
Pragma: no-cache
Cache-Control: private
Connection: close
Transfer-Encoding: chunked
Content-Type: text/plain; charset=UTF-8
url=http://stech.web-nexus.net/mtraff.php/9951709/295/527/bmV0ZmxpeA==/.../7409/
type=0
show=0
size=0
style=0
height=608
width=808
title=
pid=7409
scroll=0
validity=24
traka_height=18
traka_url=http://stech.web-nexus.net/lm.html
pos=0
GET /mtraff.php/9951709/295/527/bmV0ZmxpeA==/.../7409/ HTTP/1.1
Accept: */*
Accept-Language: en-us
Accept-Encoding: gzip, deflate
User-Agent: Mozilla/4.0 (compatible; MSIE 6.0; Windows NT 5.1)
Host: stech.web-nexus.net
Connection: Keep-Alive
HTTP/1.1 302 Found
Date: Sat, 12 May 2007 17:32:59 GMT
Server: Apache
Accept-Ranges: bytes
X-Powered-By: PHP/4.3.2
Location: http://cpvfeed.mediatraffic.com/feed.php?ac=1239&kw=netflix&ip=...&url=%2Fsearch%3Fsourceid%3Dnavclient%26ie%3DUTF-8%26rls%3DGGLJ%2CGGLJ%3A2006-07%2CGGLJ%3Aen%26q%3Dnetflix&def=http%3A%2F%2Fstech.web-nexus.net%2Fron.php%3Floc%3D309
Content-Length: 0
Connection: close
Content-Type: text/html; charset=UTF-8
GET /feed.php?ac=1239&kw=netflix&ip=...&url=%2Fsearch%3Fsourceid%3Dnavclient%26ie%3DUTF-8%26rls%3DGGLJ%2CGGLJ%3A2006-07%2CGGLJ%3Aen%26q%3Dnetflix&def=http%3A%2F%2Fstech.web-nexus.net%2Fron.php%3Floc%3D309 HTTP/1.1
Accept: */*
Accept-Language: en-us
Accept-Encoding: gzip, deflate
User-Agent: Mozilla/4.0 (compatible; MSIE 6.0; Windows NT 5.1)
Host: cpvfeed.mediatraffic.com
Connection: Keep-Alive
HTTP/1.1 302 Found
Date: Sat, 12 May 2007 17:33:04 GMT
Server: Apache/1.3.34 (Unix) PHP/5.0.5
X-Powered-By: PHP/5.0.5
Location: http://cpvfeed.mediatraffic.com/redir.php?ac=1239&sac=&dat=160e203be5ecc162fb7375fb361700b3&cpv=0.02390&url_pop=http%253A%252F%252Fnetflix.med.ccg360.com&ctl=Jq%2BXR3uuOkViBQ%3D%3D&def=http%3A%2F%2Fstech.web-nexus.net%2Fron.php%3Floc%3D309&kw=netflix&rqu1=%2F&rqu2=search%3Fsourceid%3Dnavclient%26ie%3DUTF-8%26rls%3DGGLJ%2CGGLJ%3A2006-07%2CGGLJ%3Aen%26q%3Dnetflix
Connection: close
Transfer-Encoding: chunked
Content-Type: text/html
GET / HTTP/1.1
Accept: */*
Accept-Language: en-us
Accept-Encoding: gzip, deflate
User-Agent: Mozilla/4.0 (compatible; MSIE 6.0; Windows NT 5.1)
Host: netflix.med.ccg360.com
Connection: Keep-Alive
HTTP/1.1 302 Found
Date: Sat, 12 May 2007 17:33:05 GMT
Server: Apache/1.3.33 (Unix)
Location: http://click.linksynergy.com/fs-bin/click?id=kic1Ixnq*SQ&offerid=78684.10000177&type=3&subid=0
Keep-Alive: timeout=2, max=199
Connection: Keep-Alive
Transfer-Encoding: chunked
Content-Type: text/html; charset=iso-8859-1
<!DOCTYPE HTML PUBLIC "-//IETF//DTD HTML 2.0//EN">
<HTML><HEAD>
<TITLE>302 Found</TITLE>
</HEAD><BODY>
<H1>Found</H1>
The document has moved <A HREF="http://click.linksynergy.com/fs-bin/click?id=kic1Ixnq*SQ&amp;offerid=78684.10000177&amp;type=3&amp;subid=0">here</A>.<P>
</BODY></HTML>
GET /fs-bin/click?id=kic1Ixnq*SQ&offerid=78684.10000177&type=3&subid=0 HTTP/1.1
Accept: */*
Accept-Language: en-us
Accept-Encoding: gzip, deflate
User-Agent: Mozilla/4.0 (compatible; MSIE 6.0; Windows NT 5.1)
Host: click.linksynergy.com
Connection: Keep-Alive
HTTP/1.1 302 Found
Server: WebSphere Application Server/5.1
Content-Type: text/html; charset=ISO-8859-1
Set-Cookie: ...
P3P: policyref="/w3c/p3p.xml", CP="ALL DSP COR NID DEV ADM CUR OUR BUS LEG NAV"
Set-Cookie: ...
Date: Sat, 12 May 2007 17:33:05 GMT
Expires: Thu, 01 Jan 1970 00:00:00 GMT
Cache-Control: no-cache
Pragma: no-cache
Location: http://www.netflix.com/Signup?mqso=60187019&ls_sourceid=kic1Ixnq.SQ-D0PvKYRm4eaTqxxbTZHJoA
Content-Language: en-US
Content-Length: 0