PPC advertisers
money


viewers
Yahoo Overture
money


viewers
eXactSearch
money


viewers
Nbcsearch
money


viewers
180solutions
Screenshots - Yahoo Overture Click Fraud by 180solutions, Nbcsearch, and eXact Advertising
The Spyware - Click-Fraud Connection -- and Yahoo's Role Revisited - Ben Edelman
This page gives screenshots showing on-screen displays as traffic flowed from 180solutions through intermediaries and on to Yahoo Overture and a Yahoo advertiser -- all without me clicking on any sponsored link. All testing occurred on December 17, 2005.
This traffic is click fraud because it sends traffic to a PPC tracking link and charges an advertiser a PPC fee, without a user making a cilck on any PPC ad. See also discussion in main article, as well as a packet log and video.
The Targeted Web Site: Nashbar
I began browsing at Nashbar.com, a popular bicycling retailer. The image below shows my initial on-screen display (from start of screen-capture video).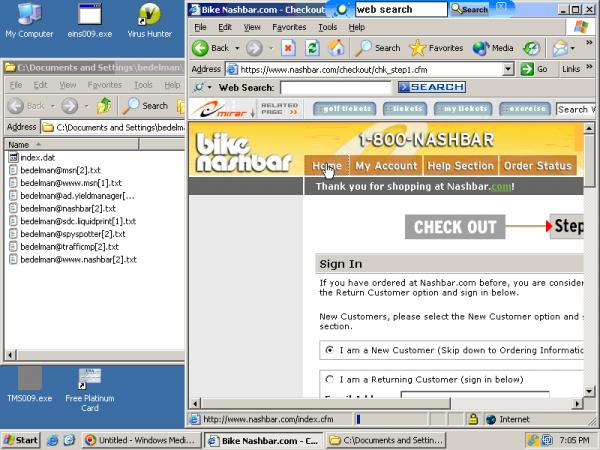 I shortly received a popup that, in its title bar, indicated that it came from 180solutions. See screen-capture video at 0:13.
Within two seconds (video at 0:15), the popup redirected to Sportsmanguide.com, a Nashbar competitor, which completely filled my screen and entirely covered the original Nashbar window. As often occurs when 180 ads include redirects, the 180 branding disappeared.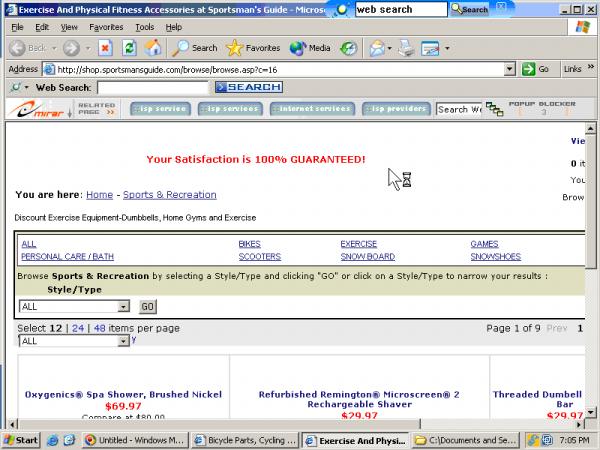 Reviewing my cookies folder, I notice that Yahoo Overture.com cookies have been created. See next-to-last cookie in the listing, as well as screen-capture video at 0:21.
See also packet log to confirm the precise chain of redirects.