3D Desktop, Ltd. makes a variety of computer screensavers. Common among them is the installation of a large amount of bundled software -- preceded by limited disclosure that results in users failing to understand the effects of installing 3D's software on their PCs.
3D's Flying Icons Screensaver installation procedure begins with the usual download-and-run procedure common to many programs. Screenshots: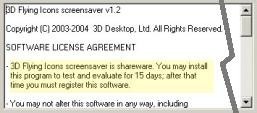 The first screen of 3D's license says the program is "shareware" which users may "test and evaluate" for 15 days. (See screenshot at right.) Users suspicious of "free" software may mistakenly take solace in this claim: When software vendors give away free trials in hopes of upselling users to full versions for a fee, the vendors would be unlikely to bundle extra software users don't want or need; such bundling would only hinder sales of the paid upgrades. So once users think they understand 3D's business model (e.g. once 3D says it's shareware), even sophisticated users may not seek further information about 3D's profit-seeking plans.
Users who take the time to read 3D's full license agreement find a surprise that begins to hint at 3D's true intentions: The final paragraph of 3D's license includes an admission of some bundled software, as shown in the text shown below.

So 3D's license mentions inclusion of BlazeFind. But what does BlazeFind do? 3D's license fails to tell users anything about BlazeFind's purpose or effect, even in the most general terms.
Some users may click on 3D's link to the BlazeFind license (cached copy), yielding a popup that presents a 2,286-word document in twelve on-screen pages. The first five pages are shown below.
Among the notable characteristics of the BlazeFind license:
The BlazeFind license first discloses inclusion of various bundled programs (beyond BlazeFind itself) at pages 2-3 of the on-screen presentation. Users who merely read the first screen of BlazeFind's license have no reason to suspect that not only does 3D install BlazeFind, but BlazeFind in turn installs multiple other programs.
The BlazeFind license claims the right to install at least four other programs (180solutions, Internet Optimizer, Target Saver, and TopRebates). The BlazeFind license links to these programs' licenses, but users much must browse to each such URL in order to view the respective licenses. Notwithstanding this multi-step process, BlazeFind's license claims that when users install BlazeFind, users also accept the terms of the respective programs' separate licenses.
In section 12 (page 9 of the on-screen license display), BlazeFind claims the right to install other programs at BlazeFind's sole discretion.
In section 14 (page 10), BlazeFind falsely claims that "Software will not collect information about the websites you visit." (In Section 1, BlazeFind had defined "Software" to include the "selected third party software" BlazeFind installs.) Notwithstanding BlazeFind's claim not to collect information about the web sites users visit, I have previously found that multiple programs installed by BlazeFind in fact do collect this information. See e.g. my June 2004 proof of 180solutions tracking what web sites users visit. BlazeFind's installation of Internet Optimizer and of TopRebates (a TopMoxie distributor) also both cause tracking of certain web site visit data. In short, BlazeFind's section 14 claim is demonstrably false.
In section 15 (page 10), BlazeFind claims that disputes must be sent to arbitration; that no class or group arbitration actions are permitted; and that users must pay $300 per hour for BlazeFind staff to attend such arbitration.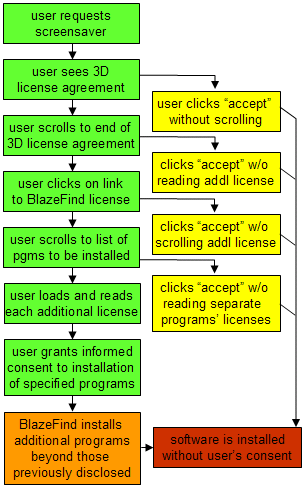 Although BlazeFind gives a specific listing of programs to be installed (at license pages 2-3), in my testing BlazeFind installs far more software than the license names. BlazeFind does install 180solutions and Internet Optimizer -- both mentioned in BlazeFind's license. But in my testing BlazeFind also installed DyFuca, MediaAccess, ShopAtHome Select, TaskAd, and a toolbar variously known as Neo, TIBS, and WebSearch. So even if a user diligently reads every license the 3D installer references, the user still has no way to know in advance what software 3D and BlazeFind will install. See installation video and selected installation screenshots.
3D, BlazeFind/CDT, 180, and the other companies involved may claim that the installation shown here entails user consent. After all, users apparently must click "I accept the agreement" before the installation proceeds. But can a user be said to have accepted so many programs merely by clicking one button? Under these circumstances? Even when 3D falsely claims to be "shareware" rather than an adware bundler? Even when learning the names of (some of) the specific programs to be installed requires scrolling a license, clicking a link, and scrolling another license? Even when learning the terms of such programs requires manually retyping multiple additional URLs and reading their lengthy contents? Even when additional programs are installed beyond those specifically named, disclosed, and (perhaps) accepted by a user, such that users have no way to know about these additional programs in advance, not to mention review, evaluate, or consent to their terms? Even when license agreements make false claims about programs' effects and about their (supposed) protection of user privacy?
The flowchart at right tries to summarize the many steps a user must complete in order to learn what will occur upon installing 3D. Typical users will take a shortcut (yellow) that entails pressing "accept" without fully investigating all included disclosures. But even a careful, diligent user who completes a full examination (all steps shown in green) ultimately receives software not disclosed anywhere in the licenses. So no matter what investigation a user conducts, if the user presses accept, software will be installed beyond the programs the user had known about -- therefore installed without the user's consent.
Last Updated: September 9, 2005 - Sign up for notification of major updates and related work.