Airline Mischaracterization of Fuel Surcharges: Air France
Fuel surcharges are imposed by air carriers of their own volition, not required by any government, regulator, airline, or similar authority. However, Air France has systematically mischaracterized these fuel surcharges as "tax."
See the test booking shown in Figure 1. We requested an ordinary paid coach ticket JFK-CDG-JFK on the Air France web site. Air France quoted a fare "Price" of $230 plus "Taxes incl 9/11 fee" of $598.14. Clicking the hyperlink labeled "Taxes incl 9/11 fee" yielded the window shown in Figure 2.
Figure 1: Air France falsely claims $598.14 of "Taxes"


Figure 2: Air France admits that $476 of the "Taxes" is actually "Fuel surcharge"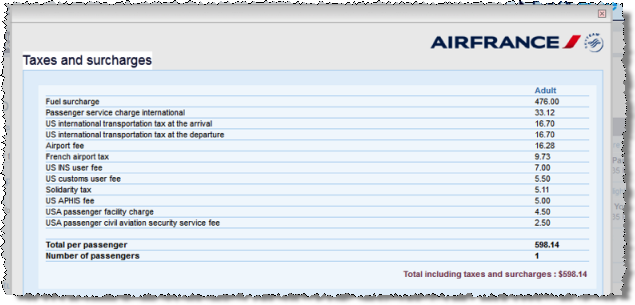 In Figure 2, Air France admits the existence of the "Fuel surcharge" of $476.00. But a fuel surcharge imposed by a carrier is not a "tax" -- specifically contrary to the unambiguous statement in Figure 1. Furthermore, by all indications relatively few users will click the small and unobtrusive link to see the details shown in Figure 2. A user not seeing that screen would necessarily conclude that taxes on this itinerary are extraordinarily high, perhaps some regulatory failure by US, France, or both. Even a user who sees Figure 2 might or might not understand that while lines 2 through 11 are bona fide taxes and fees, each required pursuant to a duly-enacted law or regulation, the top line is in fact a surcharge set by and retained by Air France. In contrast, US Department of Transportation regulations require the use of the label "carrier-imposed" to emphasize that these fees, unlike bona fide taxes and airport fees, are set by carriers of their own volition.
DOT Action as to Carrier-Imposed Surcharges on Air France Award Tickets
In January 2012, Edelman sent a complaint to the Department of Transportation as to these Air France practices. The DOT has not yet acted on this complaint. That said, the DOT's Additional Guidance on Airfare / Air Tour Price Advertisements confirms the impropriety of many of the practices flagged in that complaint.
At least one other consumer, FlyerTalk user "Minos," also complained as to Air France misrepresenting carrier-imposed surcharges as "tax." Specifically, Minos' complaint flagged Air France's misrepresentation of carrier-imposed fees as "taxes" when consumers redeem frequent flier awards. (In contrast, Edelman's complaint arose out of Air France's misrepresentation when consumers make ordinary paid bookings, as detailed above.)
On November 1, 2012, the DOT confirmed that Air France violated DOT rules through its misrepresentations during award bookings. The DOT fined Air France for this violation.
DOT Fines Air France for Violating Price Advertising Rule
WASHINGTON (November 1, 2012) –The U.S. Department of Transportation today fined Air France $85,000 for violating the department's full-fare advertising rules and ordered the carrier to cease and desist from further violations. ...
DOT's Aviation Enforcement Office found that Air France violated the Department's price advertising rule that requires carriers to inform consumers of the total price, including all taxes and fees. Although Air France promised to redeem loyalty program miles for tickets, it initially hid from frequent fliers the monetary amount that they were still required to pay which covered not only government taxes, but also substantial fees Air France chose to label as "fuel surcharges" that were included under a heading described as "taxes." Those fees could amount to more than half the price of certain purchased coach tickets. This was unfair and misleading to consumers. ...
Air France records reveal what customers receive misrepresentations and in what amounts. But to our knowledge, Air France has not contacted affected passengers to offer refunds of the "tax" that was not actually due.