When an advertiser buys a pay-per-click ad and subsequently makes a sale, it's natural to assume that sale resulted primarily from the PPC vendor's efforts on the advertiser's behalf. But tricky PPC platforms take advantage of this assumption by referring purchases that would have happened anyway. Then, when advertisers evaluate the PPC traffic they bought, they overvalue this "conversion inflation" traffic — leading advertisers to overbid and overpay.
In this piece, I show Google and its partners still covering popular sites with PPC advertisements promoting those same sites. I present the role of InfoSpace, the Google partner at the core of these misplacements, and I argue that Google should long ago have severed its ties to InfoSpace. I cite specific Google promises that these placements violate, and I critique Google's contractual disclaimers that claim advertisers must pay for these bogus placements. Finally, I propose specific actions Google should take to satisfy to its obligations to advertisers.
Google and Its Partners Still Covering Advertisers' Sites with Spyware-Delivered Popups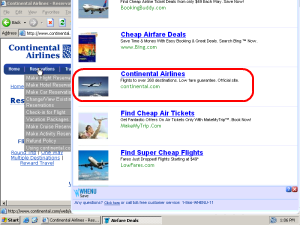 WhenU covers Continental with its own Google ads — chargingad fees for traffic Continental would otherwise receive for free
As shown in the thumbnail at right and detailed in screenshots, video, and packet log, WhenU continues to cover web sites with PPC popups. Crucially, those popups show Google ads — often promoting the very same sites users are already browsing.
In the example shown at right, I browsed the Continental Airlines site. WhenU opened the popup shown at right — covering the Continental site with a list of Google ads, putting a prominent Continental ad front-and-center. Thus, Google charges Continental a fee to access a user already at Continental's site. That's a rotten deal for Continental: For one, an advertiser should not have to pay to reach a user already at its site. Furthermore, advertisers paying high Google prices deserve high-quality ad placements, not spyware popups.
The details of the Continental ad, as shown in the WhenU-Google popup, further entice users to click. The ad promises a "low fare guarantee" — suggesting that users who book some other way (without clicking the ad) may not enjoy that guarantee. And the ad promises to take users to the "official site" — suggesting that users who don't click the ad will book through a site that is less than official. In fact both suggestions are inaccurate, but a reasonable user would naturally reach these conclusions based on the wording of the advertisement and the context of its appearance.
The WhenU-Google popup lacks the labeling specifically required by FTC policy. In particular, all sponsored search ads are to be labeled as such, pursuant to the FTC 's 2002 instructions. But look closely at the popup screenshot. On my ordinary 800×600 screen, no such label appears. I gather the required label would ordinarily appear on a sufficiently large screen, but the FTC's policies make no exceptions for users with small to midsized screens. Indeed, as netbooks gain popularity, small screens are increasingly common.
The diagram below (left) confirms the specific intermediaries passing traffic from WhenU to Google in this instance.
The money trail: how funds flow from advertisers to Google to WhenU
(three examples persisting over ten months)

December 2009

PPC advertisers
(e.g. Continental)
money viewers
Google
money viewers
InfoSpace
money viewers
LocalPages
money viewers
(unknown company*)
money viewers
WhenU

PPC advertisers
(e.g. RCN)
money viewers
Google
money viewers
InfoSpace
money viewers

*

LocalPages

money viewers

Nbcsearch

money viewers

LocalPages

money viewers
WhenU

PPC advertisers
(e.g. Verizon)
money viewers
Google
money viewers
InfoSpace
money viewers
LocalPages
money viewers
WhenU
This observation marks the third sequence by which I have observed Google paying WhenU to cover advertisers' sites with the advertisers' own Google ads. The center and right diagrams (above) show the intermediaries in my May 2009 and February 2009 observations of similar placements.
The Impropriety of Google's Relationship with InfoSpace
In all three instances I reported (as summarized in the diagram above), Google's closest link is to InfoSpace. That is, Google pays InfoSpace, and InfoSpace pays the various entities that follow. In my view, Google's relationship with InfoSpace is ill-advised for at least three reasons:
First, InfoSpace has a track record of improper placements of Google ads. InfoSpace is implicated in all three of the placements detailed above — misplacements that have continued over a lengthy period despite ample notice and opportunity for correction. Furthermore, I have personally observed other improper placements by InfoSpace. (Perhaps I'll post more in a futher piece.) Google need not continue to do business with a distributor with such a poor track record.
Second, Google does not need a distributor whose business model entails farming out ad placements to subdistributors. If InfoSpace's subdistributors seek to distribute Google ads, and to be paid for doing so, let them apply directly to Google and undergo Google's ordinary quality control and oversight. Inserting InfoSpace as an additional intermediary serves only to lessen accountability.
Third, InfoSpace's corporate history undermines any request for lenience or forgiveness. The Seattle Times chronicles InfoSpace's accounting fraud in a three-part investigative report, "Dot-Con Job", presenting 12,000+ words of analysis as well as primary source documents and even voicemail recordings. The Seattle Times byline summarizes their findings: "Investors were cashing out millions, and faithful investors were left with pennies." Hardly a mark of trustworthiness!
These Ads Violate Google's Promises to Users
These ad placements fall short of Google's promises to users. By paying spyware vendors to show advertisements, Google both enlarges and prolongs the spyware problem. In particular, Google's funding supports software that users struggle to remove from their computers. Google's payments make it more profitable for vendors to sneak such software onto users' computers in the first place.
Furthermore, Google's Software Principles specifically disallow WhenU's practices. Google's "installation" and "upfront disclosure" principles disallow deceptive and nonconsensual WhenU installations. (I have video proof on file showing nonconsensual WhenU installations.) Google's prohibition on "snooping" prohibits certain WhenU privacy practices, including WhenU's historic violation of its own privacy policy (transmitting full page URLs despite a privacy policy promising "As the user surfs the Internet, URLS visited by the user … are NOT transmitted to WhenU.com or any third party server").
Crucially, Google's partnership with WhenU directly contradicts Google's call for software makers and advertising intermediaries to "keep[] good company" by supervising partners. Despite that commitment, present on Google's site for 4+ years, Google inexplicably continues its relationship with WhenU.
These Ads Violate Google's Promises to Advertisers
These ad placements also fall short of Google's obligations to advertisers. For example, when Google describes its Search Network, Google promises:
Ads are targeted based on a user's search terms. (emphasis added)
But here, the user performed no search — so there was no proper cause to display a Search Network ad or charge an advertiser a high Search Network price.
Google confirms:
On the Search Network, ads are shown … on … the search results pages of … Google's search partners … within the Search Network. On our search partners, your ads may appear alongside or above search results, as part of a results page as a user navigates through a site's directory, or on other relevant search pages. (emphasis added)
A placement through a spyware popup does not meet these criteria: A spyware popup is not a "page." Furthermore, a user browsing an ordinary web site (like the Continental site shown above) is neither "search[ing]" nor navigating a "directory," contrary to Google's promise that search ads are shown to users at search engines and directories.
Despite these clear promises, Google's AdWords Terms and Conditions purport to allow these placements and any others Google might choose to foist on unsuspecting advertisers. Google requires advertisers to accept the following form contract provisions:
Customer understands and agrees that ads may be placed on … (z) any other content or property provided by a third party ('Partner') upon which Google places ads ('Partner Property'). (emphasis added)
That's circular, uninformative, and a rotten deal. Advertisers should demand better. Nor should Google's fine print claim the right to impose such bogus charges. Google should amend its contract to disavow charges from spyware, adware, conversion-inflation, and other schemes contrary to Google's affirmative promises.
Google's first step is easy: Fire InfoSpace. Google doesn't need InfoSpace, and there's zero reason for this relationship to continue in light of InfoSpace's repeated failings.
Google also needs to pay restitution to affected advertisers. Every time Google charges an advertiser for a click that comes from InfoSpace, Google relies on InfoSpace's promise that the click was legitimate, genuine, and lawfully obtained. But there is ample reason to doubt these promises. Google should refund advertisers for corresponding charges — for all InfoSpace traffic if Google cannot reliably determine which InfoSpace traffic is legitimate. These refunds should apply immediately and across-the-board — not just to advertisers who know how to complain or who manage to assemble exceptional documentation of the infraction. (Indeed, in response to my May 2009 report, I know Google provided a credit to RCN — the specific advertiser whose targeting I happened to feature in my example. But I gather Google failed to provide automatic credits to all affected advertisers, even though Google's billing records provide ample documentation of which advertisers faced charges from which Google partners. And I understand that Google denied requests for refunds or credits from other affected advertisers.)
More generally, Google must live up to the responsibility of spending other people's money. Through its Search Network offering, Google takes control of advertisers' budgets and decides, unilaterally, where to place advertisers' ads. (Indeed, for Search Network purchases, Google to this day fails to tell advertisers what sites show their ads. Nor does Google allow opt-outs on a site-by-site basis — policies that also ought to change.) Spending others' money, wisely and responsibly, is a weighty undertaking. Google should approach this task with significantly greater diligence and care than current partnerships indicate. Amending its AdWords T&C's is a necessary step in this process: Not only should Google do better, but contracts should confirm Google's obligation to offer refunds when Google falls short.
I'm disappointed by how little has changed since my year-ago reports of these same practices. In a conference presentation in February 2009, I demonstrated substantially similar WhenU placements, with Google's Rose Hagan (Senior Trademark Counsel) present in the audience. In May 2009 I wrote up these WhenU placements on my web site in great detail. Yet ten months later, the problem continues unabated. Indeed, the other misplacements I identified in May 2009 also continue: Google continues partnering with IAC SmileyCentral (deceptive browser plug-ins that induce searches when users attempt navigations), placing ads on typosquatting sites (including sites that show a company's own ads when users mistype that company's domain name), and, through Google Chrome, inviting users to search (and click prominent top-of-page ads) when direct navigation would better satisfy users' requests and avoid unnecessary advertising costs for advertisers. I'm disappointed by the lack of progress when, in each instance, the improper charges are clear and well-documented. Google's intransigence confirms the need for the Bill of Rights for Online Advertisers I proposed this fall.