Comments to European Commission on Proposed Google Commitments
May 29 , 2013 - with Zhenyu Lai
[ home | bio | publications | media coverage | invited presentations ]
[ email ]
[ request project updates ]

---
The European Commission last month posted a restatement of its concerns at certain Google practices as well as Google's proposed commitments. This week I filed two comments, including one with Zhenyu Lai, critiquing Google's proposal. They are available here:
Comments on AT.39740 (Edelman and Lai) as to Google's exclusive use of screen space to promote its own specialized services, and as to an alternative remedy to preserve competition and user choice in the area of specialized search services.

Comments on AT.39740 (Edelman) as to the failure of Google's proposed commitments to undo the harm of Google's past violations, and alternative remedies preserve competition in the area of specialized search services, taking data from publishers, providing advertising services to publishers, and allowing advertisers to use multiple ad platforms.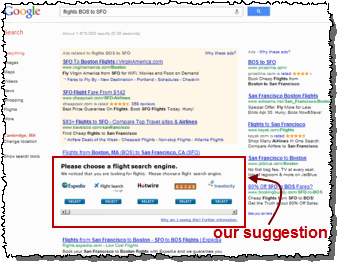 As to Google's decision to favor its own specialized search services, Zhenyu and I question whether Google's proposed commitments would effectively preserve competition. In our recent measurement of the effects of Google Flight Search, we found that Google's large Flight Search "onebox" displays sharply reduced traffic to other online travel agencies as well as driving up the proportion of clicks to AdWords advertising. Google proposes to display a few small "Rival Links" to competitors, but these links would be placed and formatted in ways that make them unlikely to attract users' attention or facilitate competitive markets.
Instead, we suggest a "ballot box" in which users can choose their preferred specialized search services in any area where Google offers and favors its own specialized search services. For example, the first time a user runs a hotel search or flight search, the user would be presented with a menu of options -- reminiscent of the "browser ballot box" a user sees when first booting Windows in Europe. This approach is entirely feasible: Facebook has long merged content from myriad independent developers; numerous developers quickly built browser add-ons to disable Google Search Plus Your World when they found its initial results unhelpful; and the G++ for Google Plus browser add-on integrates other social networks with G+ even though Google declines to provide such integration. Indeed, search engine guru Danny Sullivan in September 2011 suggested that Google "let[] people choose their shopping, local, etc one box provider?", echoing my February 2011 call for interchangeable components for competing specialized search services. In our comment, Zhenyu and I explore a proposed implementation of this concept.
As to the Commission's concerns more generally, my comment addresses Google's failure to undo the harm resulting from Google's past violations. For each of the Commission's concerns, I present alternative remedies focused on protecting competition and affirmatively undoing the harm from Google's past violations. I also flag the need for tough penalties to deter further violations by Google and others.
Reuters yesterday reported that the Commission is likely to require further concessions from Google, including improved remedies. Comments to the Commission are due by June 27.