Dell's Spyware Puzzle
June 4, 2004 - Updated June 9, 2004
[ home | bio | publications | media coverage | invited presentations ]
[ email ]
[ request project updates ]

---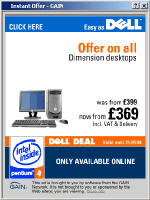 Lots of companies have a puzzling relationship with spyware. For example, a recent eWeek article pointed out the complexities in Yahoo!'s relationship with Claria: My research of last year found that yahoo.com is the the single most targeted domain of the many thousands Claria targets with its context-triggered popups. More recently, Yahoo! released a toolbar that uninstalls Claria software. These facts suggest that Yahoo! would dislike Claria and would actively oppose Claria's activities. Nonetheless, Yahoo! remains a major supplier to Claria (via Yahoo!'s Overture sponsored link service, which reportedly provides 30% of Claria's revenue, per Claria's S-1 filing).
Even more puzzling, Dell both suffers from spyware and receives web traffic from Claria's advertising services. In recent comments to the FTC (PDF page 70), Dell's Maureen Cushman reported that spyware is Dell's "number one call driver" as of late 2003, and that spyware is responsible for as much as 12% of calls to Dell tech support.
Nonetheless, my testing shows that Dell UK ads run on the Claria ad network. See the ad shown at right (among several other ads also from Dell UK), which I received while viewing the IBM.COM site. My further testing indicates that Claria shows several Dell UK ads when users visit the sites listed below (perhaps among others). (Note that users might have to visit particular parts of the sites listed here -- i.e. the computers section of amazon.co.uk, not just other parts of the Amazon site.)
ebay.co.uk
hp.com
msn.co.uk
apple.com
amazon.co.uk
ibm.com
kelkoo.co.uk
bt.com
pricerunner.com
dabs.com
dealtime.co.uk
johnlewis.com
dooyoo.co.uk
comet.co.uk
ebuyer.com
pcworld.co.uk
dixons.co.uk
acer.co.uk
abrexa.co.uk
sony.co.uk
simply.co.uk
priceguideuk.com
toxiclemon.co.uk
packardbell.co.uk
microwarehouse.co.uk
evesham.com
toshiba.co.uk
cclcomputers.co.uk
morgancomputers.co.uk
timecomputers.com
sony-cp.com
europc.co.uk
empiredirect.co.uk
Dell staff tell me that the ads were unauthorized, placed by an affiliate without Dell's permission. My inspection of the ads (and their link destinations) is consistent with this claim. But my inspection of Claria configuration files further suggests that the ads ran on the Claria network since at least February 6, 2004 -- some four months ago. Why didn't Dell notice this problem until I brought it to their attention?
If this is just a glitch, what procedures could Dell (and other companies) implement to make sure their ads are placed through only authorized channels? I'd be honored to work with interested advertisers to think through the possibilities for automatic or scheduled monitoring, testing, etc.
A note on my research methods: In May-June 2003, I offered a Gator real-time testing service that reported, on request, which ads (if any) targeted a given web site. I have subsequently disabled this site, so it provides only archived data. But I can still provide current Gator targeting data upon request. Interested readers, please get in touch by email.