Earlier this week, New York State Attorney General staff member Ken Dreifach told an advertiser conference they need to be careful where their ads appear. According to MediaPost coverage, Dreifach explained: "If you are sending stuff onto a consumer's computer, it's your responsibility to make sure the software you're using belongs there."
As to Direct Revenue's notorious ad-serving software, there is no doubt that ads appear that don't "belong," and that users never agreed to accept. Recall my many documented examples of nonconsensual or otherwise improper Direct Revenue installations.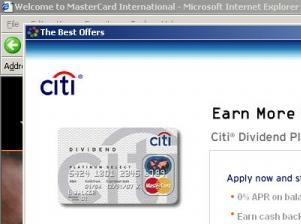 What advertisers pay for their ads to be shown by Direct Revenue, despite Dreifach's warnings and Direct Revenue's history of bad practices? To see for myself, I browsed the web on a PC with Direct Revenue installed. I received ads from plenty of big-name advertisers, including Citi, HSBC, True.com, and United Airlines. I received ads from technology companies Netzero and People PC (ISPs), Sage Software (makers of the Act! contact manager), Sprint, T-Mobile, and Vonage — companies that arguably should know not to advertise with Direct Revenue, since the Internet is the core of their businesses. Finally, despite a new ITSA policy on adware (my analysis), I saw ads from multiple ITSA members — including from Cendant properties Cheap Tickets, Howard Johnson, and Super 8, as well as from Travelocity.
Criticism of Direct Revenue generally focuses on the company's nonconsensual installations, misleading installations, improper attempts to block removal, and use of many confusing company/product names. (Newsweek analysis.) But inspecting Direct Revenue's ads reveals further cause for concern. For example, of the Direct Revenue ads I received, most arrived with their upper-right "X" button off-screen. Typical users rely on that button to close an unwanted window. By putting the X off-screen, Direct Revenue makes its ads that much harder for users to escape. Sophisticated users know other ways to dismiss the ads, and some users have larger screens where the X will be visible. But for ordinary folks — with ordinary computer skills and ordinary 800×600 PC screens — Direct Revenue's ads are particularly hard to avoid.
Advertisers' Denials and My Responses
Advertisers don't always tell the truth about their advertising tactics, and they certainly don't do everything possible to keep their ads out of spyware.
Last week, CDT posted a report (PDF) on advertisers funding 180solutions, based on advertisers I documented for CDT. Among the advertisers was Altrec, a Washington retailer of outdoor clothing and gear. When asked about its relationship with 180, Altrec told NewsFactor that the ads were an "experiment" of limited scope. Altrec also told c|net news.com that it spent less than $440 with 180 in the first quarter of 2006. See also Altrec's press release.
I think Altrec's relationship with 180 was actually considerably larger than Altrec suggests. For years, I have retrieved periodic listings of 180's advertisers. In August 2004 data collection, I found Altrec targeting nine keywords for a display of its http://www.altrec.com/mpgate/180so/ page (a URL that indicates Altrec's specific knowledge that traffic was coming from 180). By December 2004, Altrec was targeting 110 different URL fragments, including competing sites REI and Sierra Trading Post. Altrec is right to admit that its relationship with 180 was a mistake. But no online marketer needs two years to evaluate a new ad campaign. So Altrec's characterization of the relationship as an "experiment" is not persuasive. Furthermore, Altrec misleads the concerned public by emphasizing its quarter-to-date spending without mentioning prior years' spending. Finally, 180 isn't the only "adware" program Altrec has used. In March 2005, I publicly reported Altrec advertising with eXact Advertising. In short, Altrec's involvement with adware was substantially larger than Altrec's statements indicate.
Netflix, also named in my prior work and CDT's report, described itself as "very vigilant about this issue." Netflix staff say improper ad placements are particularly difficult to stop because Netflix buys so much online advertising. Perhaps. Netflix's 2004 annual report (the latest available) confirms that Netflix spent an incredible $98 million on marketing in 2004 alone. But which way does this big budget cut? If Netflix spends a lot on advertising, should the world lower its expectations for Netflix's ethics and care? I have to wonder how much effort — and money — Netflix spent on auditing and testing. My testing methods use one $2,000 PC and one $189 copy of VMware, plus a bit of skill and elbow grease. With all its resources, Netflix could do a lot better. (For anyone who wants to accelerate my testing, here's my one-item wishlist.) In any event, I've seen numerous Netflix ads appearing through Direct Revenue in recent weeks, but for brevity I include only one in today's report.