What Claria Doesn't Disclose (Any More)
November 15, 2005
[ home | bio | publications | media coverage | invited presentations ]
[ email ]
[ request project updates ]

---
Now that Claria no longer comes bundled with powerhouse distributors Kazaa and Grokster, and now that Claria has even terminated its fake-user-interface banner ads, one might reasonably wonder: How does Claria get onto users' PCs? Last month I showed an example of Claria soliciting installations via banner ads served through other vendors' spyware (which in turn had become installed without consent). But even Claria's ordinary installations still fail to tell users what users reasonably need to know in order to make an informed choice. In particular, Claria's current installations omit prominent mention of the word "pop-up" -- the key word users need to read in order to understand what Claria is offering, and to decide whether to agree.
Claria's Current Installation Procedure
Claria's installations often begin with an innocuous-looking popup or popunder like the image below. These ads don't mention Claria by name, don't mention pop-ups or privacy consequences, and don't mention any material adverse effects whatsoever. So it's no surprise that users respond favorably to these offers.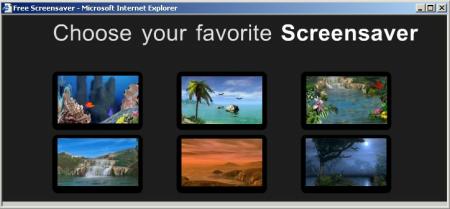 Clicking one of Claria's "free screensaver" ads yields a screen like that shown below. Users are specifically encouraged to click "yes." Once a user presses "yes," the user has no further opportunity to cancel installation of Claria's software.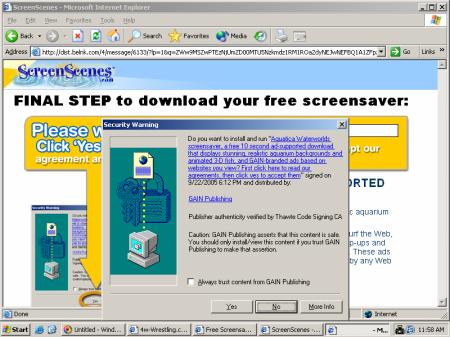 It's well-known that users hate pop-up ads. But, tellingly, Claria currently fails to use the word "pop-up" anywhere in its on-screen disclosures. Claria calls its advertising "GAIN-branded ads," conveniently omitting the one word -- "pop-up" -- that best and most concisely describes its ads. Interestingly, Claria's omission of the word "pop-up" reflects a change from its prior installation practice. Compare the two screenshots below, showing the prompt I observed in April 2005 (left) versus Claria's current installation prompt (right). Notice inclusion of the word "pop-up" in the left prompt only.
| | | |
| --- | --- | --- |
| | | |
| April 2005 | | November 2005 |
Claria's Compliance with Applicable FTC Rules
In an August 2004 interview, Claria chief privacy officer Reed Freeman set out Claria's disclosure duties. "Material terms, as defined by the FTC, are those that are likely to affect a consumer's conduct with respect to a product or service," Freeman explained, adding that existing law requires that "material terms have to be disclosed prior to a consumer [installing software]." Let's accept Freeman's statement of this rule. Surely the presence of extra pop-ups would deter a consumer from accepting Claria's offer. If so, under Freeman's own statement of existing law, Claria must disclose that it will show pop-ups.
Claria may try to defend its installations by noting that the word "pop-ups" appears in the "Final Step to download your free screensaver" screen, above. But in the default arrangement of windows, as they appeared on my ordinary SVGA screen, the "p" and "o" of "pop-up" were hidden behind the ActiveX popup, such that only the letters "p-ups" were visible. Hidden text cannot satisfy a FTC disclosure requirement. So this covered disclosure does not provide the kind of information that FTC rules require.
Claria may try to defend its installations by noting that it subsequently shows a "software utility user information" screen. Scrolling through this screen will ultimately lead to information about Claria's pop-ups. But the document is lengthy, and typical users will not see the section that discusses pop-ups specifically. Furthermore, the document is shown only after users press Yes to install Claria; by the time users see this document, they can't cancel the Claria installation. So this subsequent text cannot satisfy the requirement that disclosure occur "prior to a consumer installing software" (emphasis added).
Claria may try to defend its installations by noting its plan to move away from popups, in favor of ads embedded within partner web sites. But the Claria software I tested -- the result of the installation shown and discussed above -- still showed pop-ups, including a popup delivered mere minutes after I finished installation. These pop-ups are a material effect, under Freeman's own statement of FTC rules. So whatever Claria's future plans, Claria's current pop-ups should be disclosed as such.
Some advertisers apparently stand ready to defend their use of advertising systems like Claria's, and Claria counts as customers some of the country's largest advertisers. But advertisers should demand better. If advertisers are prepared to show their ads in pop-ups, let them first obtain user consent -- not vague consent to "ads," but specific consent to "pop-ups." Until Claria improves its installation procedures to provide this information, users who run Claria software can't reasonably be claimed to know what they were getting into.